Neuropathy messes with your strength and balance
I could have also titled this, "I exercise, but I seem to be getting weaker" or, "I did physical therapy, but didn't get as good of results as I would have hoped."
In this post we spoke a bit on how neuropathy can cause pain, numbness, or even both at the same time.  This time we'll talk about a huge part of neuropathy.
Strength
Balance
Mobility
Sensory nerves discussed here tell you about your environment.  They tell you your gloves are nice and soft or that the dog has definitely been on the sofa because that one cushion is still warm.
Motor nerves control your muscles for mobility.
Neuropathy damages whatever nerves it wants.  In one person it ravages the sensory nerves and that person has pain.  In another, it damages these motor nerves and can lead to mobility, strength, and balance concerns. (And if it's feeling nasty it can damage all of them at once)
Motor nerves are large diameter fiber nerves that control your muscles.  With peripheral neuropathy, many times the entire muscle is not shut off, just the bits and pieces within.  Your muscles are made up of a bunch of individual muscle fibers, like a bundle of straws or a handful of spaghetti.  When you move, these muscle fibers bunch up and shorten, allowing you to move your arm, hand, leg, etc.
If you were to chop through a muscle and look at the cut ends, they should look like this: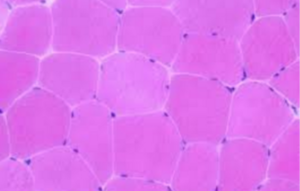 From here: http://emedicine.medscape.com/article/1923188-overview
With a peripheral neuropathy patient that has motor nerve damage, the muscle looks like this: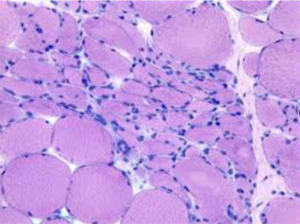 From: http://neuropathology-web.org/chapter13/chapter13bDenervation.html
You have areas that are still big and round, which means they are likely still working to move you through the grocery store.  They also have areas that are not working (because their motor nerve ending has been damaged by the neuropathy) and that area has atrophied (shrunk).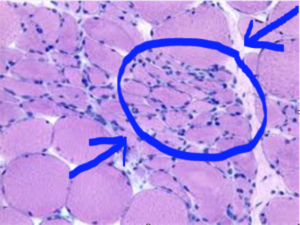 So unless there is an improvement in nerve function (like we do in our clinic), it is very difficult to improve the strength needed to improve mobility.
I was thinking that many times underneath a blog, you have a little blurb about the author that is basically a way to get in touch with them/their business.  Here is a shot at my blurb.Timothy Kelm DC is a clinician at Realief Centers of Minneapolis.  Since 2007 he has worked with patients with peripheral neuropathy.  He is also Chief Medical Officer and trains in new clinicians for Biolyst , a medical company working for solutions to peripheral nerve damage.  He has presented at the University of Minnesota Gynecological Oncology Research Symposium, has participated in Tier One research with peripheral neuropathy and lectures in the US to patients on peripheral neuropathy.  He also lectures in the US to patients on peripheral neuropathy and neuropathy relief. He can be reached by contacting his patient coordinator Amanda via email, amanda.zerwas@realiefcenters.com or by phone 952-446-7424.